Green ICT Innovations
Submitted by Matt on Wed, 04/10/2019 - 11:41
Researchers and businesses are advancing innovative ideas with potential for mainstream Green ICT. These range from products and services available today to futuristic concepts for tomorrow. The latest is Dell's gold recycling program, including the creation of jewelry from motherboard gold.
E-Waste Gold Recycling
The United States lacks a manufacturer take-back policy, so any voluntary effort is welcome. The United States Environmental Protection Agency's 2018 Sustainable Materials Management (SMM) Electronics Challenge recognized Dell with a Champion Award in the Product category for its Closed Loop Gold Recycling Program . "By using gold reclaimed from used electronics, Dell is reducing its demand for mining of gold ore, resulting in a decrease in associated environmental impacts from gold mining. ...The gold recovered...will be used in motherboards in the Latitude 5285 w-in-2s (combination laptops and tablets...(Dell) was able to reduce the cost of gold from several dollars per product to a few cents per product...According to Dell, there is 800 times more gold in a ton of motherboards than in a ton of ore from the earth... Dell states that a Trucost study shows the Dell's gold reclamation...has a 99% lower environmental impact than traditional mined gold. The Trucost study also found that gold mining causes 41-times the social impact (negative) as gold recycling."
Dell is sponsoring a line of recycled gold jewelry to promote the effort.
Image courtesy of Dell
Cork Portable Speaker
The January 2019 Consumer Electronic Show (CES) gave a Sustainability and Eco-design award to the House of Marley No Bounds XL portable bluetooth speaker. "The rugged, buoyant and waterproof (IP67) speaker is designed using upcycled REGRIND™ silicone, sustainably harvested REGRIND™ cork, recyclable aluminum and Marley's exclusive REWIND™ Fabric." House of Marely describes REWIND™ as "... constructed from a distinctive blend of 30% reclaimed organic cotton, 30% reclaimed hemp and 40% recycled PET."
Image courtesy of House of Marley, LLC
Paper Batteries
Batteries are made of metals and plastics, the production and disposal of which is usually environmentally. A alternative technology is in its infancy, but researchers think bacteria and paper may provide a way of creating more sustainable batteries.
IEEE Spectrum reports that research by Seokheun Choi and colleagues at the State University of New York at Binghamton "focuses on integrating bacteria into paper both to generate electricity and to dispose of the battery...To create the battery, the research team placed freeze-dried "exoelectrogens" on paper. They explain that exoelectrogens are a type of bacteria that can transfer electrons outside of their cells. The electrons pass through the cell membrane and make contact with external electrodes to power the battery...To activate the battery, the researchers added water or saliva, both of which revived the bacteria". At the end of its lifecycle, the "hybrid paper-polymer biobattery readily decomposes in water."
Researchers in Spain are working on "the PowerPAD (Power: Portable And Disposable), a fully organic and completely biodegradable battery concept inspired by the sustainability principles of green electronics. [It} represents a new class of batteries designed to operate for relatively short periods of time (from minutes to 1–2 h) to fulfill the power needs of portable applications while not requiring any specific recycling facility for its disposal...The two electrodes made of hydrophilic porous carbon paper are... sandwiched between two thin layers of cellulose in order to ensure reliable capillary flow of reactants through the electrodes and into the large cellulose absorbent pad at the bottom. The outward facing surfaces of the device are sealed with a beeswax-covered cellulose layer in order to prevent liquid leakages...The proposed battery is conceived as a single use power source that is activated by the addition of a small sample of liquid, such as water, urine, or saliva, on the inlet cellulose pad."
Both research projects have a way to go before commercial viability, but they represent important thinking about the use of natural materials in ICT.
Image courtesy of SUNY Binghamton
Low-power communications for the Internet of Things
GSMA Intelligence offered an update on Low Power Wide Area technologies for IoT in June 2018. "Operator momentum is building around the rollout of LPWA technologies, particularly LTE-M and NB-IoT. As of the end of May 2018, 52 commercial networks were launched globally. Technically, LPWA is a genuinely good piece of innovation: low power consumption improves data economics without compromising spatial coverage. The problem for operators is that because LPWA transmits low data volumes at low speeds, it is priced as a utility – with little leverage. Given the promise of IoT representing the 'next wave of connectivity', it is therefore an unfortunate irony that connectivity itself will account for a very low share of value: only 5% by 2025." See more about IoT connectivity in our inventory of the 25 billion edge devices worldwide.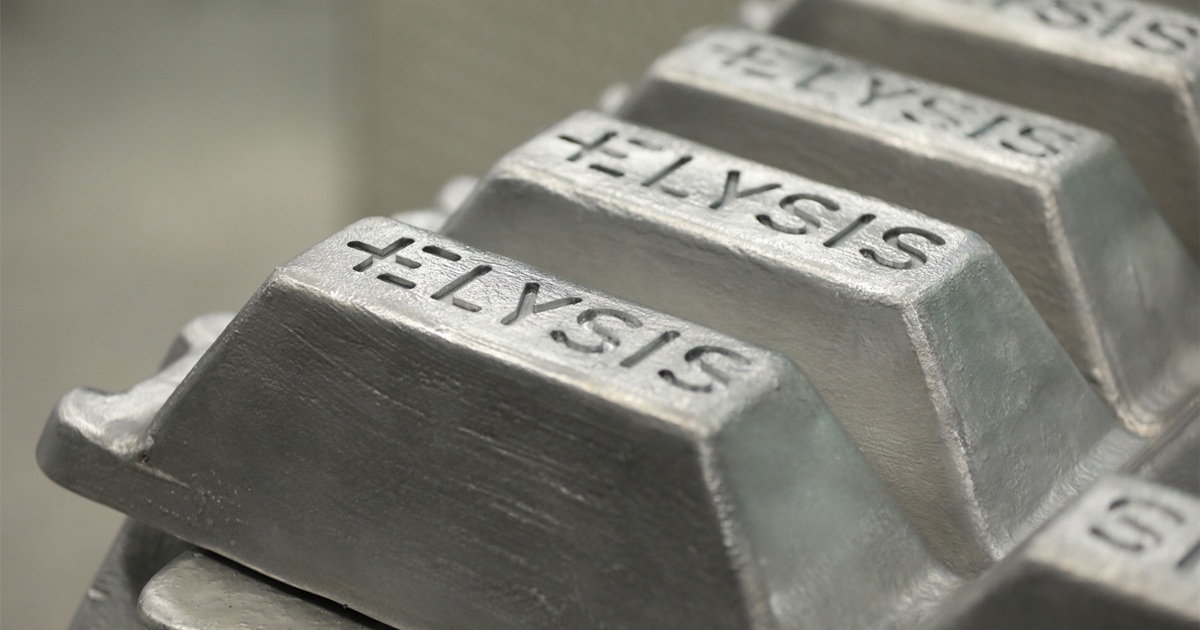 Apple invests in GHG-free aluminum smelting
Apple announced that it has "...partnered with [Alcoa and Rio Tinto], and the Governments of Canada and Quebec, to collectively invest a combined $144 million to future research and development...the two aluminum companies formed a joint venture called Elysis, which will work to develop this technology further for larger scale production and commercialization, with a package planned for sale beginning in 2024. Apple will continue to provide technical support as well." The Apple announcement did not specify the amount of its investment or the details of its technical support. Apple Insider reported that, "Apple's investment is $10 million (13 million CAD) in the project...Apple will not have an equity stake. "
Fuel cells for remote base stations
Over 700 million people are covered by mobile networks, but live in areas without reliable electricity. Deployment of remote base stations powered by renewable energy is growing, but they most are still powered by dirty diesel generators.
India reflects that situation, according to an article in IEEE Spectrum. "Despite significant addition to power generation and transmission capacities in recent years, India still faces an energy deficit of 2.1% and about 20,000 villages are off-grid. Moreover, electricity supply to urban and rural India is still unreliable. As a result, diesel generators are widely used for decentralized power generation." This appears to be spurring some promising R&D.
"This is why the National Chemistry Laboratory (NCL) in India, along with two other labs in the Council of Scientific and Industrial Research (CSIR), the Central Electrochemical Research Institute (CECRI), and the National Physical Laboratory (NPL), are investigating cleaner, cost-effective, and more dependable technology for powering telecom towers...A promising answer to the cost and pollution conundrum can be found in proton exchange membrane fuel cells (PEM fuel cells or PEMFCs...which are being phased into many applications as replacements for older power technology. [They offer] small carbon footprints, low decibel levels, fuel compatibility, and excellent complementarity with other renewable energy options...PEM fuel cell systems have an overall efficiency exceeding 30% (compared to 22-25% for diesel generators), and when run on pure hydrogen, their only emission is water vapor."
The brain as a model for low-energy computing
A New York Times article describes work at Google and Microsoft to deliver cloud services via neural networks - large collections of processors that constantly learn how to improve the performance of a task like speech recognition. The problem? "That requires enormous computing power, and if companies like Microsoft use standard-issue chips to do it, the process takes far too long because the chips cannot handle the load and too much electrical power is consumed." The solution? "...the leading internet companies are now training their neural networks with help from another type of chip called a graphics processing unit, or G.P.U. These low-power chips...were originally designed to render images for games and other software, and they worked hand-in-hand with the chip...at the center of a computer. G.P.U.s can process the math required by neural networks far more efficiently than C.P.U.s."
An inspiration for all this? "As [Gill Pratt of Toyota Research] sees it, machines that spread computations across vast numbers of tiny, low-power chips can operate more like the human brain, which efficiently uses the energy at its disposal. 'In the brain, energy efficiency is the key,' he said ..."
Update
The day after we posted the above, we saw another approach to thinking about neural networks and energy efficiency. Verne Global announced, "...DeepL has deployed its 5.1 petaFLOPS supercomputer in [Verne Global's Icelandic data center,] designed to support DeepL's artificial intelligence (AI) driven, neural network translation service..." A Deep L executive is quoted, "...the abundance of low-cost renewable energy and free cooling will allow us to train DeepL's neural networks at lower cost and faster scalability..." (More on Verne Global and Green ICT.)
Current without resistance
The Australian Research Council's Centre of Excellence in Future Low-Energy Electronics Technologies (FLEET) is an international collaberation to address the challenge of ICT energy consumption. "FLEET will meet this challenge by realising new types of electronic conduction without resistance in solid-state systems at room temperature. These concepts will form the basis of new types of switching devices (transistors) with vastly lower energy consumption per computation than silicon CMOS. Electronic conduction without resistance will be realised in topological insulators that conduct only along their edges, and in semiconductors that support superflow of electrons strongly coupled to photons. These pathways are enabled by the new science of atomically thin materials."
'Dissipationless systems', 'atomically thin semiconductors', and 'non-equilibrium topological phenomena' will likely yield more futuristic applications than those described below, but this kind of advanced research is critical for game-changing breakthroughs in sustainable ICT technology. The FLEET site contains videos explaining these concepts.
FLEET also asserts, "The current technology, silicon complementary metal-oxide-semiconductor (CMOS) will stop becoming more efficient in the next decade as Moore's law comes to an end."
Mobile base station designed for renewable power
Another approach to the problem of dirty telecom is to make base station electronics more energy efficient and thus more compatible with on-site renewable power.
The Development Impact Lab (DIL) at UC Berkeley has developed a village base station called the Community Cellular Network (CCN). "The CCN is a complete 'network-in-a-box', enabling local communities to both own and operate their own cellular systems. The network is designed for the world's most remote communities and can be deployed by people with limited technical skills. At its core is a village base station, or cell phone tower. Each CCN is costs less than 1/10th the price of traditional cellular equipment, and its low power consumption enables it run solely on solar or micro-hydro power. It is also highly efficient, using less than 50W average power draw, which reduces infrastructure and operating costs. The network can provide kilometers of coverage to local communities."
Reusable electronics modules
Nascent Objects offers a potential approach to reducing e-waste by promoting a modular approach to electronics. The idea is specific capabilities could be upgraded without replacing the entire device. The company was recognized as a 2016 Sustainia 100 solution: "Nascent Objects provides people with the opportunity to design and reuse modular electronics, giving hardware a much longer shelf life."
Floating data centers
Nautilus Data Technologies claims to be "...the first company to successfully launch a waterborne floating data center prototype, pioneering a new standard for data center energy efficiency, environmental sustainability and global scalability. Nautilus Data Centers will dramatically reduce the cost of computing by providing the industry's lowest power usage effectiveness (PUE)..." The company reports, "The first commercial Nautilus data center is currently under construction at California's Mare Island Shipyard, where Nautilus successfully validated its first proof-of-concept prototype data center in 2015." These datacenters are designed to be docked at ports, not floating on the high sea like the wave-powered data center Google patented in 2009.
"One average size data center can consume enough water to supply 2,000 homes a year...Nautilus leverages the natural water below to cool the data centers, and all the water is recirculated safely back into the original body of water." Besides consuming new water, the company is targeting its facility to reduce energy consumption and carbon emissions by 30%, compared to an average 8mw data center.
Greener computer mouse
Germany's Faire Maus is an effort to create a socially and an environmentally sustainable (#3BL) computer peripheral using the 'Fair Trade' model. The producer, Nager IT, offers a detailed description of current green features and future goals. The Faire Maus is only available in Europe at this time.
Ebola tablet with unique energy features
The Hot Hardware site describes the effort to produce an "Ebola-proof" tablet to communicate patient data from inside containment facilities. "The Sony Xperia tablet comes with an extra protective shell, can withstand chlorine dousing as well as exposure to the high humidity and storms that are typical of life in West Africa. And it can even be used by workers wearing protective gloves."
We are especially interested in the tablet's energy features. "It is placed on a table to charge, quickly and wirelessly, and can transmit data to servers on the outside of the zone. This last aspect of the tablet may not seem the least bit impressive to Westerners, but is nonetheless considering the limited state of Internet access and infrastructure in the West Africa region. To illustrate, the server that receives the transmissions from the tablets — which is about the size of a postage stamp — runs on lithiumion batteries now, but during testing had to be connected to a motorcycle battery for its power. "
The tablet is a collaborative effort among Whitespell, Hack4Good, and Google in response to a challenge issued by Médecins Sans Frontières.
Click on the 'dev-econ' tag above for more about #GreenICT + #ICT4D.
Images courtesy of Médecins Sans Frontières

Computer using 100% recycled plastics & negative-carbon packaging
Dell announced a computer for sale in June 2014 that set an industry milestone, "Dell will be the first company in the IT industry to use UL-Environment certified closed-loop recycled plastic in a computer with the launch of the Dell OptiPlex 3030 All-in-One desktop...By reusing plastics already in circulation, Dell is cutting down on e-waste, saving resources and reducing carbon emissions by 11 percent compared with virgin plastics...Dell plans to use this closed-loop approach as a blueprint for reusing metals and other materials and to accelerate Dell's goal of using 50 million pounds of recycled-content plastic and other sustainable materials in its products by 2020. "
Dell also announced that, ..."carbon-negative AirCarbon material from bio-tech start-up, Newlight Technologies....a plastic material made from air and greenhouse gases that would otherwise become part of the air...will launch this fall beginning with the packaging sleeves around new Dell Latitude series notebooks... Previous Dell packaging innovation includes bamboo and wheat straw that helped eliminate 20 million pounds of packaging and saved 18 million dollars. The new AirCarbon packaging, greener and less expensive to manufacture than oil-based plastic packaging. "
Additional information on Electronics Takeback Coalition website.
Wood-frame, award-winning, touch screen computer
iameco v.3 is a Windows-based, touch screen computer. The Irish company says, "Less than 360 kilograms CO2eq is produced over the full product life cycle....Almost all of the materials used in the computer are recyclable, including the wooden frame. Hazardous materials typically used in a computer manufacturing process have been reduced to a minimum for iameco and replaced with environmentally friendly alternatives. ...Our computers are designed to last about three times longer than average – up to 10 years. They are designed for lifetime extension (DfLE) and designed for disassebly (DfD)." The v.3 won a 2014 Sustainia 100 award. The company also says it, "...is the first computer of its kind to win the prestigious EU Eco Flower certification," but we are unable to provide a link due to the Eco Label (Eco Flower) dysfunctional web site.
The v.3 features a 15.6" screen. By way of comparison, an Apple's 15" MacBook Pro, a full-featured laptop, has a life-cycle footprint of 690 kg CO2e while Apple's 9.7" iPad Air has a footprint of 210 kg CO2e.
Sustainable Workstation for Remote Areas
The ICT needs of developing economies (ICT4D) often converge with Green ICT. The Inveneo High-Performance Computing Station "is a low-power desktop computer designed for use in rural and off-grid locations where processor speed is required but electrical supplies are limited or unreliable, like underserved clinics, schools, community centers, and microfinance offices. Computer components [are] integrated into a single compact unit, optimized for performance at minimal power usage." The unit features a 22-watt Intel Atom processor, mobile device technology that is increasingly finding its way into low-energy computing, and a 7-watt 15" LCD screen. The package features a 12VDC power input, so it can run off PV solar directly through a charge controller or via a solar-charged battery.
Energy efficiency is not the only trait ICT4D shares with Green ICT. 'Sweating assets' talking to extending our gear's lifecycle to reduce everything from embodied carbon to e-waste. This is particularly important in remote areas when maintenance is difficult. Inveneo notes that its station offers "...rugged hardware stands up to hot, dusty computing environments...has a very low Total Cost of Ownership (TCO) and is designed to be sustainable even in resource-constrained environments."
More:
Why ICT4D needs Green ICT
Click on 'dev-econ'tag above for for about ICT4D + Green ICT
Charge Devices While Walking
The Wall Street Journal reports, "The explosion in electronic gear in the modern military, from radios and GPS equipment to night-vision goggles, means a typical soldier may carry a dozen devices and 70 batteries on a three-day patrol. That adds weight — 16 pounds or so — to already-overburdened warriors." A start-up funded in part by the Office of Naval Research (USA), Lightning Packs LLC, is trying to commercialize a backpack that can generate 15W-40W from a 50-pound load. (This is an example of energy harvesting for ICT.) As a Green ICT advocate, an outdoor enthusiast, and a university-research-to-commercial-product entrepreneur, I'll be watching how this progresses. More: Wearable tech & Green ICT.
Boil Water to Charge a Device
The PowerPot® has a thermoelectric generator that converts heat into DC power. It is designed to sit atop of a small gas stove or other heat source and charge a USB device while the pot boils water. The company claims that the latest model, the PowerPot X, can deliver "...a full 10 watts of max output. Even under mediocre conditions, it produces 5 watts, giving you ample power for charging any device." Backpackers will note that a $149 pot/lip/cable package weighs 18 oz; a basic $16 aluminum pot/lid combo with 36% more capacity weighs 8 oz. The company invites buyers to donate to its Give A PowerPot program to distribute units to people who have mobile phones but who live in the off-grid areas of developing economies. (The image to the right is from a field trial in Ghana.) Fixed-base use, either in remote areas or in emergency situations, mitigates the weight issue and the donor program helps make the technology available to the less-affluent.


Tiles Made from CRT Glass
Fireclay Tile (CA-USA) successfully completed in December 2013 a Kickstarter campaign to convert CRT glass to tiles. The funds are for the necessary molds; the CRT glass is from ECS Refining. Recycled CRT glass had been used to made new CRTs, but that market has dried up leaving an estimated 660 million pounds of CRT glass* in storage in the United States. Here's the Kickstarter video:


3-D Printer from Recycled E-Waste
Crowdfunding site Ulule features a 3-D printer made from recycled e-waste targeted to cost less than $100. The W.AFATE project is the brainchild of Togolese entrepreneur Afate Gnikou.


Urban Solar Charge Stations for E-Devices
We've covered many examples of PV solar used for ICT in remote areas developing economies, but it can be applied everywhere. The New York Times reports in June 2013 that telecom service provider AT&T's "…25 solar-powered charging stations will sprout in parks, beaches and other outdoor spaces in [New York City's] five boroughs, part of a pilot project from the wireless provider in partnership with the city. The stations — 12.5-foot steel poles with three petal-shaped solar panels fanning out on top — can accommodate up to six devices at a time regardless of wireless carrier, with dedicated ports for iPhones, Androids, BlackBerrys and standard USB charging cables…If successful, AT&T could expand to other cities. The project will cost $300,000 to $500,000…Three 15-watt panels and a 168-watt-hour lithium ion battery pack can keep the stations operating through the night or five days without sunshine. The stations will allow a user to fill a smartphone in two hours, or grab a 30 percent charge in 30 minutes." We've noted in other posts the environmental problems caused by diesel-powered telecom and there is a tie-in here. "The spark for the project came after Hurricane Sandy, when AT&T supplied diesel generators and cell towers on wheels to hard-hit neighborhoods…"
PC Housing Made From Cardboard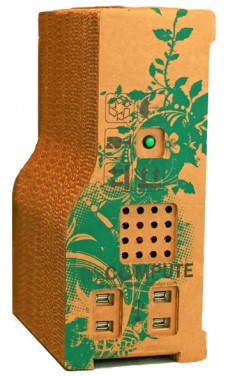 Recompute's family of PCs are housed in corrugated cardboard cases and built to the company's philosophy of Full Life Cycle Design. Interesting insight into materials: "The ignition point of cardboard is very high, higher than most of the plastics used in traditional computer hardware design. Recompute cases have been tested safe to over 400F/200C. Most of us don't think anything of putting a cardboard pizza box in the oven, or boiling hot coffee in a paper cup, yet the internal components never reach a temperature higher than an oven or boiling liquid."
Novel Design for a Personal E-Device
Wandular is a 2025 concept device from Sony Europe's FutureScapes initiative made of wood, recycled steel, and high-tech components.
"Wandular is a multi-purpose, modular device that grows with the user over a lifetime, generating a similar sort of affection and sense of personal connection as a favourite watch. A cloud-based, thin client modular approach enables a long product life span, whilst ensuring the user enjoys the latest software and hardware upgrades.
Modular add-ons will allow devices to be physically upgraded with everything from projectors to motion sensors and energy generation modules. This means the device can be personalised and its lifespan extended. Local 3D printing of modules using recyclable materials could satisfy users' thirst for novelty and customization whilst minimising the environmental footprint. This will also enable a closed loop system for adding new hardware to the device.
Integrating more emotionally engaging design elements provides a stronger connection between the user and the physical object, making it appealing over a longer time period."
More:
Check out other innovations and basic research by clicking on the 'FutureTech' tag at the top of this post.
* US CRT Glass Management Report.
Images courtesy of DIL, Lightning Pack, PowerPot, Fireclay, Pensa (charge station designer), Recompute, Sony